After a few failed attempts trying to make a well fitting bra with the Maya, I decided to give another pattern a try. Maybe the Maya is just not meant for me or maybe I just can't figure out at the moment how to make it fit me.
More research was needed!
I came across
this blog post
from Venusian Glow (Warning: naked boobies!). And then it all started making sense to me! I've been thinking that I can't possibly be more than a D cup with my small breasts, I'm just doing something wrong with my construction or something, the D should fit! This post proved to me that you don't have to have large breasts to be a bigger cup size. Tissue distribution also plays a big role on determining the cup size. It doesn't matter what letter or size fits as long as it fits!
Another factor that plays a big role for a good fitting bra is the breast roots.
This post
from Bratabase describes all kinds of different breast roots and issues you might have with ill-fitting bras. And
this post
is me: Shallow breasts with wide roots.
Around this point I came across Novita's post from
Verypurpleperson
in the
Bra making forum
where she shared this comparison chart/picture:
What an eye opener this was! Not every bra is the same, why would every bra pattern be the same? As you can see above, the frame from the Maya is quite narrow in comparison with the Malborough and the Wings van Merckwaerdigh (she mentioned in the comments that she had used the Wings pattern for this comparison).
This got me looking at the Merckwaerdigh patterns and I found the
Winds
very pretty. The price was also very tempting! So I bought it!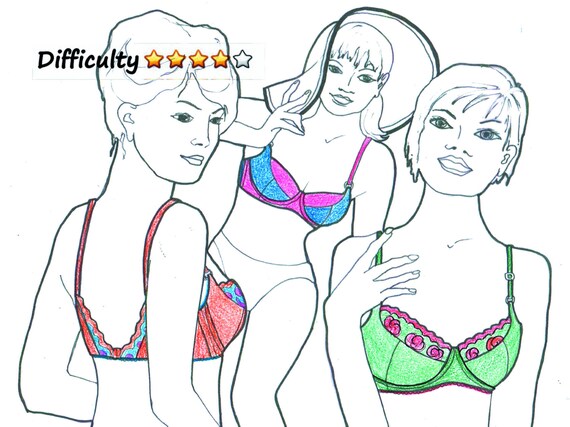 As a starting point I made the same size as the Maya, 75E, maybe the wider wireline would solve all my problems. The instructions are different than what I've followed before, sometimes I had to read a few parts twice to get it but I found it clear enough at the end. I didn't follow all the suggestions and instructions. But that's a matter of preference I believe.
The sizes didn't exactly include my size but with some sister sizing, it all went well!
I again used somewhat inexpensive materials, striped dark gray-blue lycra allover, no lace this time! This was a test version and I didn't feel like putting too much effort into it! I used fold over elastic for the top of the cups, I thought I'd give it a try and see how I like it. It gives the finished bra a more every day look which I don't mind.
I changed nothing to the pattern since this was the first time making it. I'm not a fan of soft cups (or at this point I wasn't!😏) so I used 3mm foam for this one! The only thing did was to connect the bridge with the cradle and cut it as one piece. I did the same for the back, I connected the wings to the ehh... wings! No reason at putting in much effort on a test bra I thought, the less pieces the faster it's done!
This bra definitely has a different shape than the Maya. I really like the seam lines and how the back looks, imagining it with lace, it'd be beautiful! That said, I do find it too pointy for my liking. But apparently that is relatively easy to fix! (More about that on my next post!😉)
The wireline fits me much better, it sits almost perfectly on the sides. The straps I can't stand though... Mostly on the back, they actually hurt 😞. They're too far on the sides both on the front and the back. I do have to add here that my breasts sit quite high (problems, problems right?😜) so that might also be the reason why the strap position is so uncomfortable for me.Theoretically also not a major problem, that can also be altered, this is a test bra after all, although I had hoped it would be wearable. I guess that's usually the case trying a bra pattern for the first time and that's why it's suggested making a test bra first.
The bridge isn't laying flat on my chest and the cups are somewhat overflowing. If I press the bridge down flat, the quad-boob appears!
This is clearly at least a size too small for me.
I'm overall pleased with this pattern. Although the size wasn't the right size, I now have a very good idea of how it looks and fits and what I have to alter on the next one to make it better fit me.
So next I'm going to be making the same pattern a cup size up!😬